In February 2010 two young ladies Blessing and Nicholine matched out to Cameroon in search of the poor and started a centre in town of Kumba were they started the work of Pro Labore Dei serving the poor of the area through feeding, clothing and meeting other needs to the cripple and blind by helping them become self reliant through business funding.
We also cover surrounding areas around Kumba such as Kumba- Ekombe, Malende-Mukonje and Malende-Yoke.
The work has since initial start-up expanded to Doula, Bamenda and Fontem.
DOULA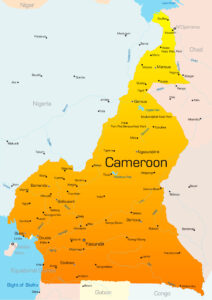 Mrs Thelma started the Doula branch and Madam Filo from Ibadan went as a volunteer to continue where she left off. A Flat was acquired to use as an office base in Roibell Centre at Bonaberi.
After Madam Filo finished her mission two other Missionaries (Chinelo and Micheal) were sent to continue to where she left off.
BAMENDA
Pro Labore Dei Bamenda was started by Madam Judith Nkamta, a Pro Labore Dei Doula member in September 2011 at Bamendankwe, a village about 10 Km from Bamenda Town. John Paul, a missionary from Nigeria in November 2011, later joined her. PLD house was acquired in Bamenda Town and our first sets of children (four in total) and a matron moved in.
The branch started off with four boys and some feeding, which were done in Bamendankwe. A health program was also started in Bamendankwe, which continued until January 2013.
The branch moved to a bigger premise in August 2013.
PLD Cameroon today
Kumba:
Feeding
Children
Internally displace.
Bamenda